Concept development is one of the steps in the development for new products. After idea generation and screening, concept development is creating more detailed versions of the idea, keeping in mind consumers' needs. Which section of customers can be targeted, who will buy this, etc. are some of the basics for concept development. It is the process of creating the way you want the customers to perceive your product or service in the market.
There can be many concepts for the product. Let us find out the best one together which can stick in the customers' mind. The concept should be simple, well-articulated and impressive enough to convince consumers to buy it. The whole purpose of concept development is to provide a convincing answer to the question – Why should I buy this?
"If you want to attract other people, you first have to talk to them in their language."
Kurt Tucholsky (German Journalist and Writer, 1890 – 1935)
A special event is an opportunity for a leisure, social, or cultural experience outside the normal range of choices beyond one's everyday experience.
Event, Incentive, Meeting, Conference, Congress, you name it – we do it. No matter if 5 or 500 people or even more, no matter where you plan it – we will be at your side to turn your message into reality. Due to our long time in the event business, we have reliable partners and can offer our services worldwide. Starting from the idea, we cover creation, planning, organisation, and on-site service. Nearly everything can be done in-house which makes it easier for you. And not to mention – we are known to stick to the budget!
"Every moment and every event of every man's life on earth plants something in his soul."
Thomas Merton (American Author, 1915-1968)
What we offer:
Marketing planning & strategy
Marketing collateral & infrastructure development/re-development
Marketing Support Hub - design, development, build, operate
Stationary & Marketing Collateral management - design, production, storage, shipment
Advertising Campaign media planning/buying, creative, deliver & management
Digital Marketing Services
Photography and video services
Administration of Marketing development funds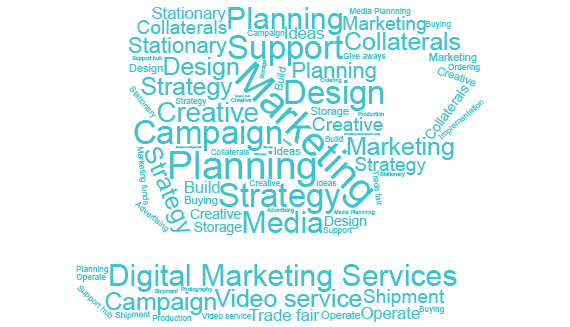 Per definition, Graphic design is the art or profession of visual communication that combines images, words, and ideas to convey information to an audience, especially to produce a specific effect. In other words, graphic design is communication design; It's a way of conveying ideas through visuals and design.
Although the digital age entails designing with interactive software, graphic design still revolves around age-old principles. Striking the right chord with users from the first glance is crucial. We have a firm understanding of color theory and how vital the right choice of color scheme is. We design with an eye for how elements match and overall effect, noting how you shape users' emotions as you guide them from, say, a landing page to a call to action.
"Design is thinking made visual."
Saul Bass (Designer, 1920-1996)
5. Virtual Event Services
Due to the current situation we want to support all our clients to go virtual with trainings, events and conferences. We can offer a variety of different portals to hold virtual events incl. attendee management, one-to-one schedules, breakout rooms and even some fun parts that attendees can enjoy together online. Beside of this we also have experienced moderators to take over the MC part and guide the audience through the conference.

Moreover we also have different coaches that are experienced in virtual trainings and can help you to use the time to offer softskill trainings for your employees, colleagues or clients.
We have the gear to transform all great production story and mood boards to reality. Our dynamic warehouse is kitted out with all the latest and greatest hardware needed to build up anything from a one man presentation to a choreographed tech production that will blow your audiences mind away.

We offer affordable, global solutions, ensuring your story is seen and heard consistently.